THE START
Bonnyville Kennel was established over 25 years ago with the Christmas gift of a "pet" quality Shetland Sheepdog. Our Christmas girl (Shellie), and I, became a team in the world of obedience trials. Shellie and I succeeded in the quest for her OTCH title and she produced 3 litters of wonderful pet puppies. However, my eye was frequently drawn to the conformation ring and observing the differences between our wonderful pet and the "show quality" shelties competing, Ted and I, decided to obtain the best quality, foundation bitch we could find.
FOUNDATION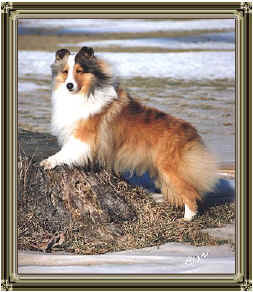 After several months of searching for a quality foundation bitch, we purchased Grandhill's Irresistible. "Stacey" was an inbred Ch Alfenloch Ryan O'Neil daughter. She was quality through and through but her one flaw was her dislike for the conformation ring. She was a Tri-factored Sable Merle, therefore she could produce many colours depending on the chosen stud. Stacey, is the Mother, Grandmother, Great-grandmother and Great, Great Grandmother of the Champion Tri's, Blues and Sables residing here at Bonnyville.
EXISTING KENNEL & DAILY OPERATIONS
Today our home base consists of inside and outside facilities, room for up to 15 adults and usually a litter or two of various ages enjoying their own space. All puppies are whelped in the kitchen or sunroom and kept separated from the rest of the kennel during the critical first few weeks. We line bred our dogs on Ch. Sunnybrook's Heritage Spirit ROM with some very pretty and well considered outcrosses. Although very demanding, the kennel runs efficiently and smoothly. Ted and I are both now retired enabling us to give the kennel 24hr supervision, 7 days per week. In this way, all our adults, puppies, incoming bitches for breeding or dogs for grooming and showing are given the attention and care needed for the breed to flourish.
Ted thrives on keeping fit and the dogs are able to join him for cross-country skiing, long distance running, hiking and a spirited game of soccer or fetch.
An interest and talent, that I developed with the kennel, is the art of photography. All pictures on this site have been done by myself (exception show pictures), and once in a while, I manage to catch on film the spirit of the Sheltie.